Next year will see the arrival of a large business complex in Eemshaven. Eemshaven Distribution Center has purchased a plot of over 12 hectares (approx. 24 football pitches) close to Emmahaven for this purpose. Groningen Seaports N.V. and Eemshaven Distribution Center B.V. recently completed the transaction for this plot located directly in the port area.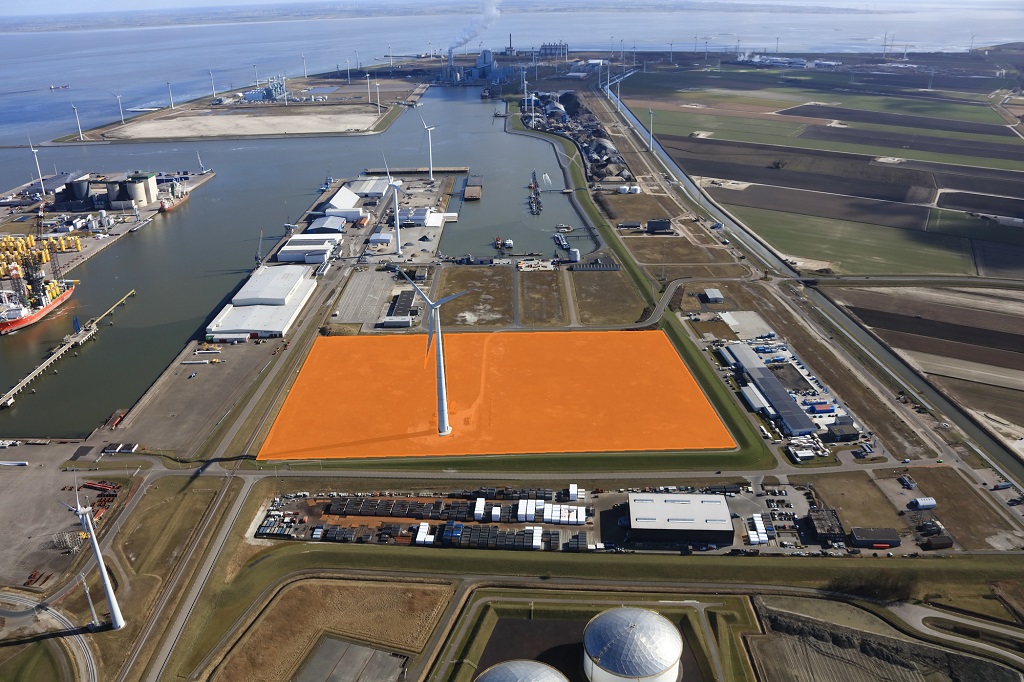 The 12-hectare plot of EDC in Eemshaven (Photo Groningen Seaports)
Eemshaven Distribution Center B.V. (=EDC) is a subsidiary of "Necron Group AG" based in Zug, Switzerland. Necron Group is a real estate development and investment company. The Swiss company focuses on developing and implementing industrial and logistics real estate projects in the Netherlands, Germany, and Switzerland. Necron secures investment-worthy lessees and looks in particular for locations of strategic importance for the construction of industrial buildings. The choice of a business complex in Eemshaven is perfectly aligned to this philosophy.
Strong development
CEO Gerard van Liempt of EDC is enthusiastic about this acquisition: "We are delighted to be able to contribute to the strong development of Eemshaven. Eemshaven occupies a unique position in the connections with Scandinavia, the United Kingdom, Germany, and of course the Netherlands. Especially now that Eemshaven is continuing to develop as an 'energy hub' in the field of renewable and sustainable energy, EDC sees good opportunities here for storage space and small offices for local service providers and port companies."
With the arrival of EDC at Eemshaven, Groningen Seaports has fulfilled a long-cherished wish. CEO Cas König: "A great addition to our port. Of course, we always wanted a large logistics business complex in Eemshaven. But that depends on sufficient trade. The fact that EDC has chosen Eemshaven for strategic reasons underlines the fact that this trade, in combination with the demand for large-scale business space, is now present. It's great to see that."
60,000 m² building
EDC plans to build a sustainable logistics business complex of approximately 60,000 m² on the site in Eemshaven. The building can be divided into units of various sizes. In the meantime, the first seriously interested lessees have applied, and EDC expects that the business complex will make a significant contribution to employment in the region. Construction is expected to start in the second quarter of 2022, and EDC anticipates a construction time of approximately 18 months.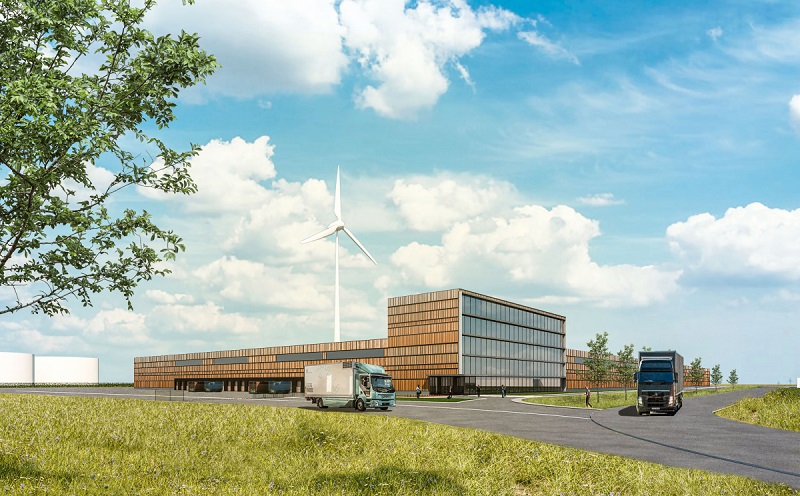 Artist impression of the EDC-building in Eemshaven (artist impression Necron/EDC)