Low basis, de-risked market entry with substantial existing growth capacity
 QTS Realty Trust, a leading provider of software-defined and mega scale data center solutions announced today, as part of its global growth strategy, the expansion of its operations internationally with the acquisition of two operating data centers in the Netherlands. QTS acquired the two data center assets, totaling approximately 30 gross megawatts currently built out, from TCN SIG Telehousing B.V. for approximately $44 million, including closing costs. QTS currently anticipates approximately $15 million of additional capital investments required for recommissioning of the two facilities. This additional investment, in addition to the initial purchase price, represents an upfront cost per megawatt of approximately $2 million, which is materially below the average cost to build in the Netherlands market.
"The data center industry has increasingly become a global business, particularly among our target hyperscale customers. The European market, in particular, has experienced a significant rise in demand, with 2018 representing a record year of absorption across the four largest European markets," said Chad Williams, Chairman and CEO – QTS. "This acquisition advances our global expansion strategy and provides a platform for future growth internationally at a significantly de-risked entry point. Acquiring strategically located facilities at a competitive price aligns with our overall growth strategy and has clear long-term benefits for our customers and shareholders."
The two data center assets are located in the cities of Groningen and Eemshaven, which are located  northeast of Amsterdam. The Netherlands remains one of the top European markets for data center users due to competitive utility and operating costs, availability of renewable power resources and proximity to diverse connectivity options to other major European markets.
The Groningen facility currently has built-out capacity representing approximately 10 gross megawatts of power and 45,000 square feet of raised floor data center space. The Groningen data center is largely stabilized with approximately 20 colocation tenants and a weighted average remaining tenant lease term of approximately 3.5 years. The facility represents one of the most interconnected data centers in the Netherlands market with more than 10 network providers and internet exchanges on site including NL-IX and Eurofiber.
The Eemshaven facility, which is currently vacant, was originally constructed to support a single hyperscale tenant and has built-out capacity representing approximately 20 gross megawatts of power and 113,000 square feet of raised floor data center space. The facility is strategically located adjacent to multiple hyperscale customer-owned data center deployments, including a 500+ megawatt data center campus operated by one of the largest hyperscale cloud providers in the world. In addition, the facility is located in close proximity to multiple transatlantic fiber cable landings providing access to multiple markets within Europe and North America. QTS anticipates investing incremental capital over the next several quarters to recommission the facility and expects to position the Eemshaven data center with sellable capacity in late 2019. QTS expects the Eemshaven facility to support its ongoing hyperscale growth initiatives and has already engaged in preliminary discussions with multiple potential anchor tenants.
 "We are pleased to welcome QTS to the northern Netherlands region," said Robert van Tuinen, Manager Strategy & Business Development – Groningen Seaports NV. "Groningen Seaports NV operates the Eemshaven seaport which has experienced a significant increase in interest and deployments from global hyperscale data center providers looking to take advantage of dense undersea fiber connectivity options to surrounding European markets. QTS has established an impressive operating track record in the US and we look forward to supporting their continued expansion as part of the ongoing growth of the Eemshaven and Groningen data center markets."
In conjunction with the acquisition of the two data centers, QTS has entered into a partnership with Zentrys Group B.V. ("Zentrys"), a Netherlands-based data center operations company that has maintained day-to-day operations of the Groningen and Eemshaven facilities for the past five years. Zentrys will continue to provide on-site data center operations, maintenance and customer support for both of the acquired facilities.
In addition, QTS has entered into a separate partnership with Eurofiber, a leading international provider of fiber infrastructure, who will provide local sales and marketing support in addition to robust fiber connectivity. Through its partnership agreement, QTS will be able to offer its customers access to Eurofiber's innovative DCspine platform for on-demand cloud and data center networking, providing connectivity between QTS' Netherlands data centers, surrounding European markets and subsea cable landings in Eemshaven.
QTS expects these partnerships will accelerate the Company's European market penetration while reducing execution risk in a new market and maintaining continued high-level customer support.
Financial Impact
As a result of the low basis acquisition price relative to in-place power capacity at the Eemshaven facility, combined with contracted, in-place revenue at the Groningen site, QTS expects this transaction to be breakeven to its 2019 OFFO per share. The Company anticipates a significant potential OFFO per share accretion opportunity upon incremental leasing in the future, particularly at the Eemshaven facility which has substantial power capacity fully built out and available. QTS purchased the two data centers utilizing a combination of cash on hand and availability under its existing revolving credit facility. The acquired facilities are expected to contribute approximately $3 million in annualized recurring revenue and approximately $1 million in annualized adjusted EBITDA at closing. The transaction closed on April 23 and is reflected in QTS' 2019 financial guidance which was updated to reflect the acquisition in conjunction with QTS' first quarter 2019 earnings release.
 About QTS
QTS Realty Trust, Inc. (NYSE: QTS) is a leading provider of data center solutions across a diverse footprint spanning more than 6 million square feet of owned mega scale data center space within North America and Europe. Through its software-defined technology platform, QTS is able to deliver secure, compliant infrastructure solutions, robust connectivity and premium customer service to leading hyperscale technology companies, enterprises, and government entities.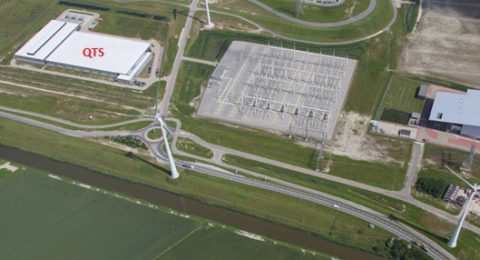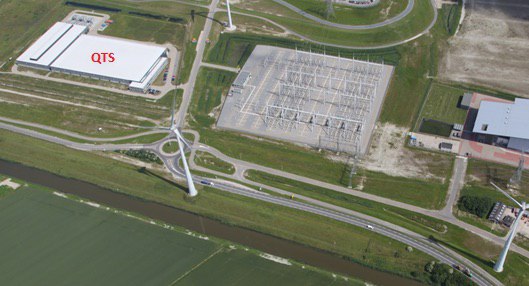 QTS datacenter Eemshaven, close to substations and power converter