Additional logistic hub for BOW Terminal
By signing the purchase agreement for a total of 22ha of land in Eemshaven the Flushing based company BOW Terminal has definitively decided to expand their future offshore wind activities with a new logistics hub in the Eemshaven, based in the northern part of Groningen, The Netherlands.
In view of the energy transition in Western Europe and the number of project planned in the area this expansion is a logical step to suit the needs of our clients, says Managing Director Ludolf Reijntjes: "We have had several positive sessions with Groningen Seaports and we are both confident that this new terminal will be an additional asset for the market. With this new facility BOW Terminal will focus on four markets: heavy lift, decommissioning, oil & gas and off course offshore wind".
The new terminal will be located directly along a 525 meters mostly prioritized quay at the Wilhelmina Harbour. The quay strength of this prioritized part will be upgraded to 10 tons/m2. With a water depth of 16 meters the Wilhelmina Harbour has the highest water depth in Eemshaven and is therefore suitable for deepwater vessels. The new BOW Terminal facility will be operational Q2 2019. "BOW Terminal Eemshaven will provide its clients with a team of local experts in the field", says Reijntjes which means that there will be opportunities for local companies and residents.
About Eemshaven
Around a third of all the energy that is produced in the Netherlands comes from Eemshaven. With an installed capacity of 8,000 MW Eemshaven is an energy port of note. The port also plays a prominent role in the development of wind parks at sea during their construction and the subsequent maintenance of the wind turbines. Since 2009 Eemshaven has become a base, marshalling and service port, which results in an impressive track record of 16 wind farms (to be) launched from Eemshaven. Eemshaven lives and breathes offshore wind. The port is excellent situated, close to the North Sea, and well-equipped to accommodate logistic (offshore) projects. The distance to the wind farms (under construction, planned or completed) is short.
About BOW Terminal
BOW Terminal is fully operational since 2010 and logistic provider in the energy market. BOW Terminal is situated in the port of Vlissingen, on a site extending across 25 ha with a heavy load quay length of 525 metres. For mobilization activities and layby an additional 1,400 metres are available. The location is ideally suited for offshore wind and heavy lift projects. The terminal is fully operational 24 hours, 7 days a week and has direct access to open sea via the Western Scheldt River without interference of locks or bridges. The terminal is equipped with all the necessary facilities and materials for the preparatory activities relating to the final construction and maintenance of offshore wind farms. BOW Terminal is a subsidiary of the Kloosterboer Group.
Artist impression BOW Terminal in Eemshaven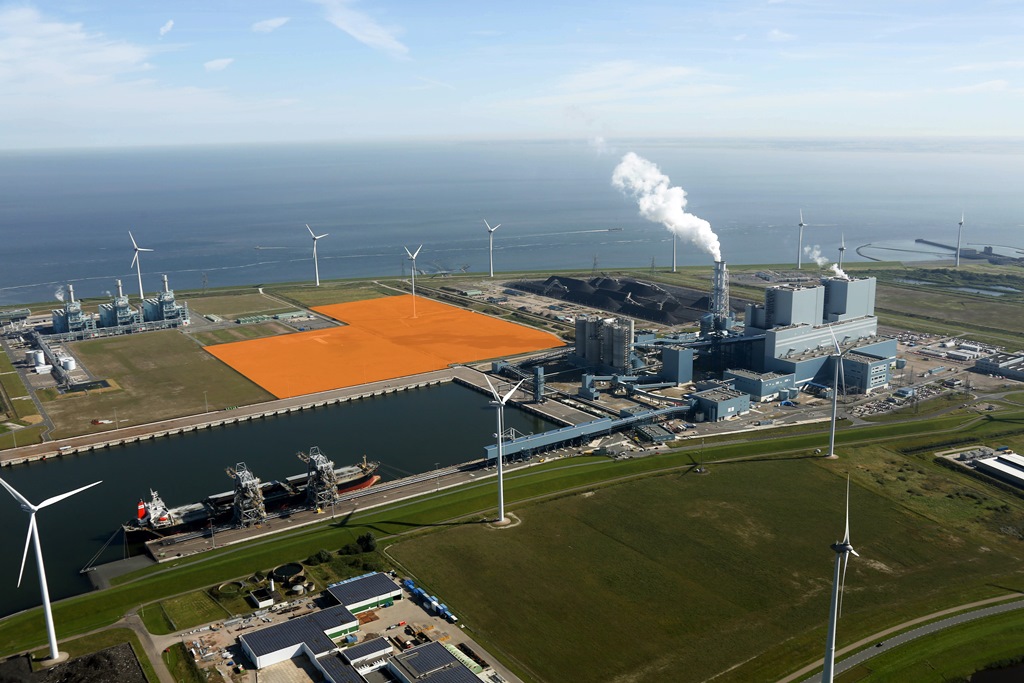 Location BOW Terminal in Eemshaven