New construction site in 2019
The annual figures of Groningen Seaports show another successful year. The transhipment volume of 13.7 million tonnes in the seaports is a substantial increase on what was achieved in 2017, which itself was a successful year. The issue of industrial sites amounted to 33.9 ha; another increase compared to 2017. The preliminary profit forecast exceeds the budget forecast at around 2 million euros. Cas König, CEO of Groningen Seaports N.V., announced this during his New Year speech this afternoon.
Jobs have increased by more than 2%. In 2018, more than 14,000 people were employed in the total port area (Eemshaven and Delfzijl). The forecasts for 2019 are also extremely favourable. With the construction of PMC, Van Merksteijn, BOW Terminal, the expansion of Google, the huge developments in the offshore wind activities, but also because of the investments in the existing business, there are plenty of new (construction) activities. The conditions in the Eemsdelta region are currently highly favourable for suppliers and for jobs.
New activities
The existing business community in both Eemshaven and Delfzijl also did well in 2018. Various companies gave a new boost to their activities and opted for an expansion or extra investment. In Eemshaven, companies including Sealane, Wijnne Barends, Amasus and Holland Malt expanded, the heliport infrastructure was completed and EMS Maritime Offshore (EMO), as operator of this heliport, announced plans to make further investments in this important activity for offshore wind. AG Ems had a record number of visitors for departures to Borkum (436,000), more than 20,000 of whom were already using the new rail link to Eemshaven. There were also plenty of investments in Delfzijl: Gebroeders Borg, Enexis, Contitank, PPG and BioMCN announced and/or realised expansions. Avantium and Photanol also set up a (green) chemical pilot plant. As well as the various new activities at Groningen's seaports, things are also going well for existing clients!
Greening ports
In keeping with the Seaport Vision, opportunities for growth are found mainly in the 'green area'. Seven new solar parks are expected to be developed in the Groningen Seaports management area in 2019, three in the Delfzijl area and four in Eemshaven. In certain cases, the port authority will take a shareholding in these parks. This shareholding gives Groningen Seaports control of the delivery of green energy, which is increasingly becoming a decisive factor for the arrival of new activity in our region. But our existing clients are also working on improving their green credentials. Challenges lie in the further CO2 reduction in both ports. There are ambitious plans ready to achieve a CO2 reduction of 49% by 2030 based on more solar/wind energy, a different production method, use of biomass and other forms of cooperation. Groningen Seaports will significantly expand its hydrogen infrastructure in 2019. The biosteam pipeline between EEW and the Delfzijl chemical park was completed in 2018.
Challenges in 2019
Groningen Seaports expects to be able to continue the rising and successful trend in 2019, focusing on an operational financial result, growth in employment, safe shipping, sufficient skilled personnel and the further elaboration of the plans for the CO2 reduction.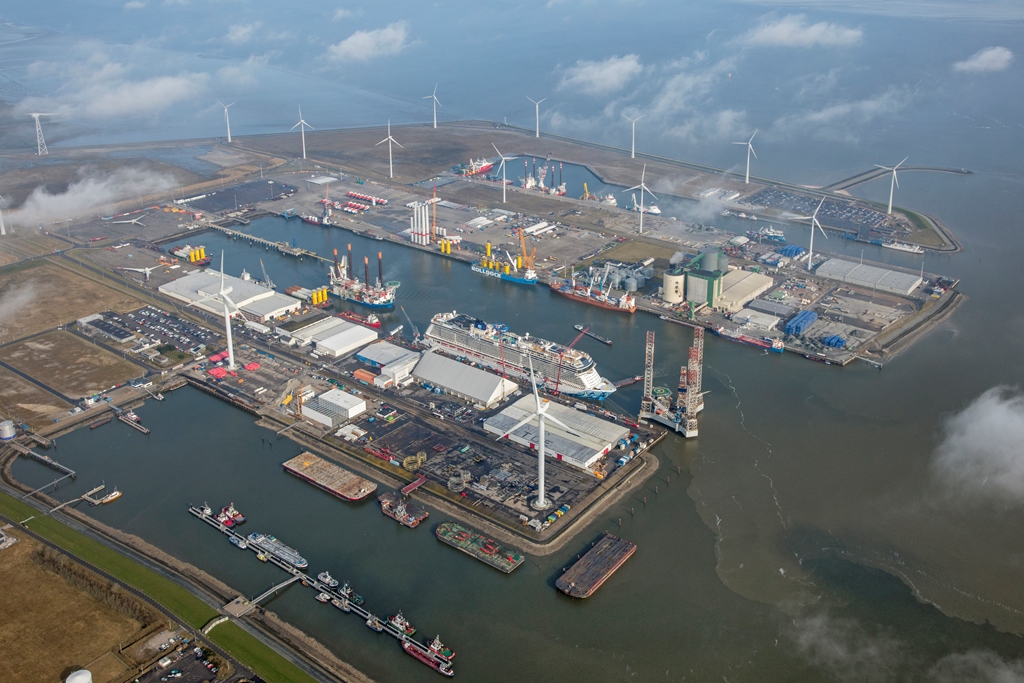 In 2018 it was getting busier and busier in Eemshaven, especially because of offshore wind activities