Merkur Offshore GmbH signs contract with EMS Maritime Offshore B.V. for the construction and operation of a service base in Eemshaven, Netherlands.
Ems Maritime Offshore B.V. ("EMO BV") was awarded with a contract with Merkur Offshore GmbH. The Dutch subsidiary of EMS Maritime Offshore GmbH signed a long-term contract for the construction of a warehouse with affiliated offices as well as the terminal logistics. The warehouse consists of an area of 600 m², while the modern offices have almost 500 m² which are spread over two floors.
Eemshaven has developed itself as central service base for the installation of offshore wind projects. It gains even more importance with the commissioning of the wind farms as service base for operation & maintenance works (O&M). The wind farm operator Merkur Offshore GmbH thus decided to perform part of its maintenance and service works for the same titled offshore wind farm in Eemshaven from spring 2018.
The concept of EMO BV convinces through professionalism and the flexible implementation of individual requirements and requests of the tenant as well as of the future user. In addition, the building complies with the newest energy standards and with high quality and safety requirements. User of the entire infrastructure for the upcoming years will be the GE Renewable Germany GmbH, who will supply and install the turbines for the wind farm Merkur. For the O&M works GE will thus use a modern building flooded with light, which includes offices, meeting rooms, changing rooms, showers, common rooms and kitchen.
Merkur Offshore GmbH operates the offshore wind farm Merkur, which is currently under construction in the German North Sea. The wind farm is located in the German EEZ, approx. 45 km north of Island Borkum and consists of 66 wind turbines by GE, type "Haliade 150" with a capacity of 6 MW each. Merkur Offshore GmbH has signed a long-term service agreement with GE for the turbine supply. In order to perform the works reliably, Merkur Offshore GmbH and GE have been looking for a suitable service base and found it with EMO BV in Eemshaven. "Eemshaven is a great location in order to support the turbines in the wind farm effectively. Moreover, it was important for us to find a partner, which convinces us through service, competency and flexibility", says Markus van Hümmel of Merkur Offshore GmbH.
The terminal of EMO BV has an area of 33,000 m² and is directly connected to the waterfront. EMO BV has just started the operation in spring 2015 and has developed the new area. The warehouse and the office building for Merkur Offshore GmbH and GE is already the second project which is being realised and financed within a short period of time. "Our concept to install a powerful service base has been successful", says Knut Gerdes, Managing Director of EMO BV.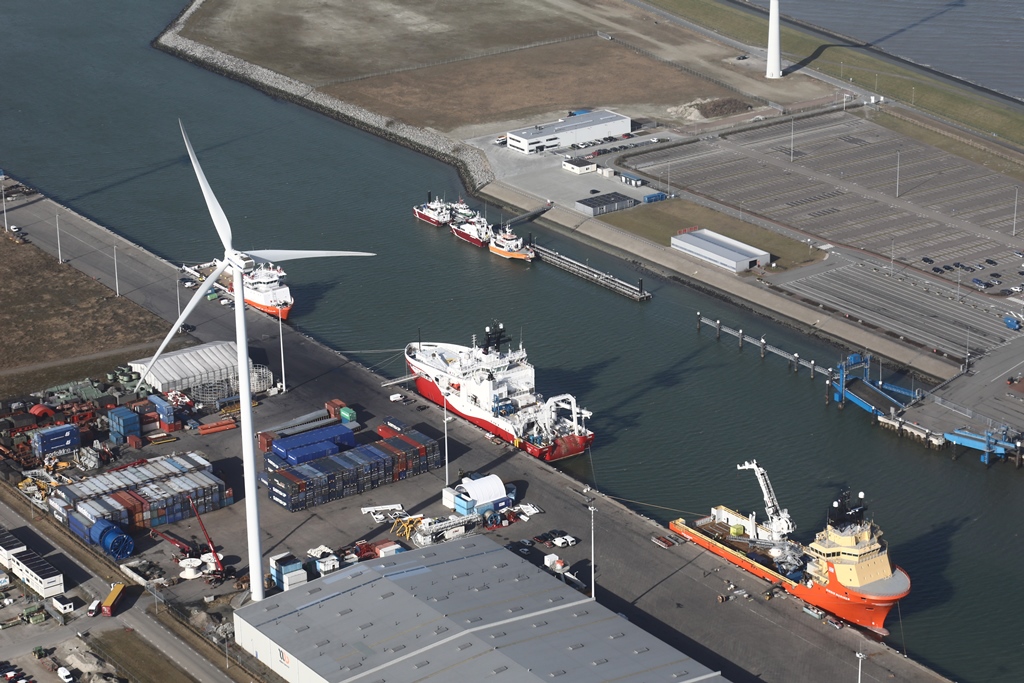 The EMO location on the other side of the Beatrixhaven in Eemshaven