Today Whitehelm Capital and Royal Vopak announce a change in ownership in Vopak Terminal Eemshaven, a joint venture terminal in the Netherlands between Vopak and NIBC European
Infrastructure Fund I C.V. ("NEIF"). Whitehelm Capital, one of the world's most experienced independent infrastructure investment managers, will acquire 90% of the shares in the company from Vopak and NEIF on behalf of two pension fund investors. Vopak will retain 10% of the shares.
Vopak Terminal Eemshaven provides services for the storage of strategic reserves of liquid oil products, such as gasoil and gasoline. The terminal comprises 11 tanks with a total storage capacity of 684,025 cubic meters, and has a deep-water jetty for seagoing vessels.This financial ownership transaction will not have any impact on the terminal operations or name of the terminal. Vopak will continue to manage and operate the terminal in accordance with its global standards.
From an accounting perspective the 10% ownership of Vopak will be classified for Vopak as an investment in an associate, the exceptional gain will be included in Vopak's Q3 results.
Whitehelm Capital is a long-term investor that invests in true infrastructure assets with stable long-term cash flows. Whitehelm has a long history of investing in the tank storage sector, contributing to its development into an attractive asset for institutional investors. An investment in Vopak Terminal Eemshaven is consistent with Whitehelm's approach of investing in high quality tank storage assets that benefit from strong contractual protections with exceptional operational performance.
Vopak's transaction is in line with its strategy to focus its ownership within Vopak's global network on four terminal types: industrial, gas, distribution and hub terminals. Since 2011 Vopak and NEIF were both 50% shareholders in this joint venture terminal.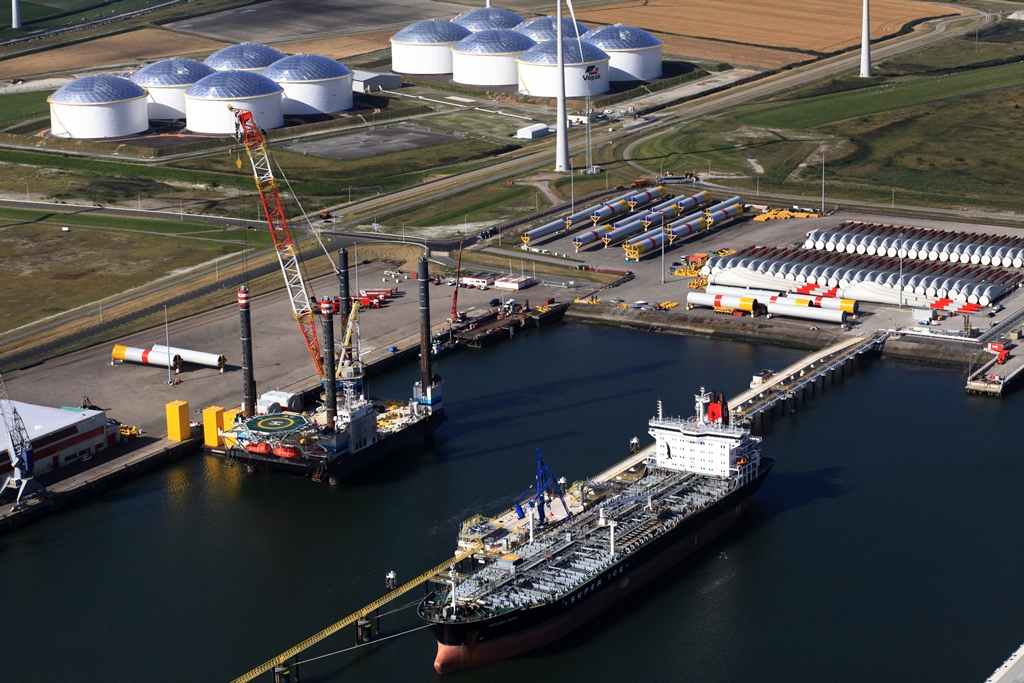 Vopak Terminal Eemshaven with in front the oil jetty