SOV Esvagt Albert Betz christened for MHI Vestas in Beatrixhaven
Wednesday 4 September saw the launching ceremony of the brand new maintenance vessel for MHI Vestas, the Esvagt Albert Betz, in Eemshaven. Over the next 15 years, MHI Vestas will be using this Service Operating Vessel (SOV) for the maintenance and operation of the Deutsche Bucht wind farm, which consists of 33 Vestas turbines. The launch ceremony took place at the heavy cargo quay in Beatrixhaven and was attended by, among others, representatives of MHI Vestas, Northland Power, Esvagt, DHSS and Groningen Seaports. According to custom for a new ship in the port, the captain of the Esvagt Albert Betz was presented with a port shield by the deputy harbourmaster of Groningen Seaports.
Eemshaven is the home base for this new vessel, which is the 8th Wind Service Offshore Vessel of the Danish company Esvagt. Earlier this year it was announced that MHI Vestas had selected Eemshaven as the service base for carrying out the maintenance and operation activities of the Deutsche Bucht wind farm. The company does this from the new premises of DHSS at Beatrixhaven. Deutsche Bucht is the third offshore wind farm of the Canadian energy producer Northland Power. This offshore wind project is located in the German part of the North Sea more than 100 kilometres from the mainland, which shows that Eemshaven also offers excellent facilities for wind farms at this distance as part of the supply chain. Northland Power also owns the largest Dutch wind farm, Gemini, whose foundations for the 150 turbines were installed from Eemshaven.
Deutsche Bucht fourth maintenance and operation base in Eemshaven
Deutsche Bucht is the fourth wind farm having its maintenance and operation carried out from Eemshaven. Siemens Gamesa and Merkur Offshore have already chosen Eemshaven as their offshore service hub. Siemens Gamesa maintains the wind farms Gemini and Veja Mate and Merkur Offshore, the wind farm of the same name consisting of General Electric turbines.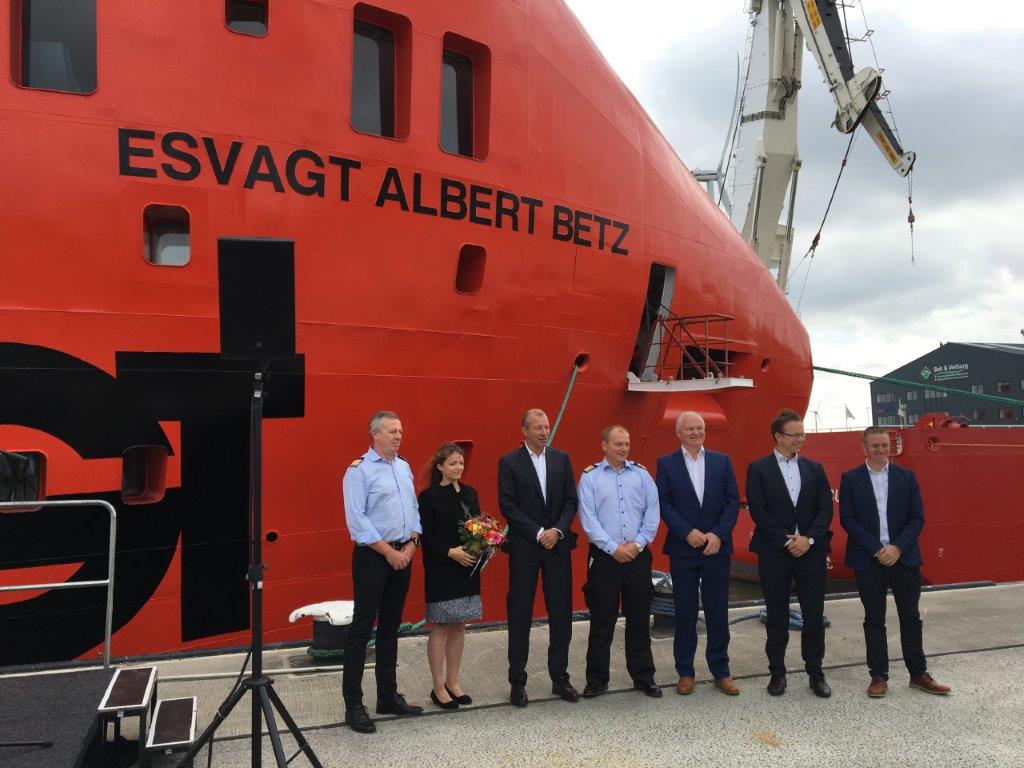 The SOV Esvagt Albert Betz during the christening ceremony