Minister Wiebes conducted opening ceremony on 13 September
EEMSHAVEN – The official opening of the heliport in the Eemshaven took place on Friday 13 September. Minister Wiebes of Economic Affairs arrived at Heliport Eemshaven by helicopter at around 4:00 PM and has conducted the opening ceremony there. The arrival of the heliport makes Eemshaven's position in the offshore wind sector even stronger. The helicopters will mainly be used for the maintenance of the offshore wind turbines.
Groningen Seaports has worked for over seven years on the heliport. The north-western part of the Eemshaven emerged as the best location following an extensive and careful process in close consultation with nature and environmental organisations, the surrounding area and the regional and provincial authorities. A location in an industrial area near Beatrixhaven not far from the ferry service to Borkum, but above all close to all offshore wind activities.
Heliport Eemshaven is primarily aimed at facilitating helicopter flights for the offshore wind industry, but can also be used for ambulance and trauma flights and, for example, for piloting ships. The flights are only operational in daylight, with an average of 15 flights a day.
EMS Maritime Offshore (EMO), a wholly owned subsidiary of AG EMS, is the operator of Heliport Eemshaven. Groningen Seaports is delighted with the arrival of the heliport. CEO Cas König: "Our ports were already very well connected by water, road and rail, but the opening of the heliport adds the air travel modality. As a result, offshore wind farms can be reached better and faster, which means that Eemshaven has become a much more attractive service port for the maintenance of offshore wind turbines." Operator EMS Maritime Offshore is also pleased with this milestone and it can't wait to schedule helicopter flights for Heliport Eemshaven. CEO Bernard Brons: "With our extensive maritime services at sea and in various ports, we offer a broad portfolio in the maintenance of offshore wind farms. The operation of Heliport Eemshaven is an great addition to our existing range and enables us to offer our customers an extra service."
Eemshaven base and service port for offshore wind
In recent years, Eemshaven has not only grown into an important base port for offshore wind logistics (16 offshore wind farms have been constructed via Eemshaven), but also into a service port for the maintenance of the currently installed offshore wind turbines. Eemshaven is already the maintenance base for the Gemini, Veja Mate, Merkur Offshore and Deutsche Bucht wind farms (316 turbines in total) and in view of its location, the presence of the entire supply chain and the potential of many more planned wind turbines in the North Sea, Eemshaven is expected to further strengthen its position as a base and service port. Certainly now that there is a take-off and landing area for helicopters: the owners of the large modern wind farms use both ships and helicopters for their service and maintenance activities.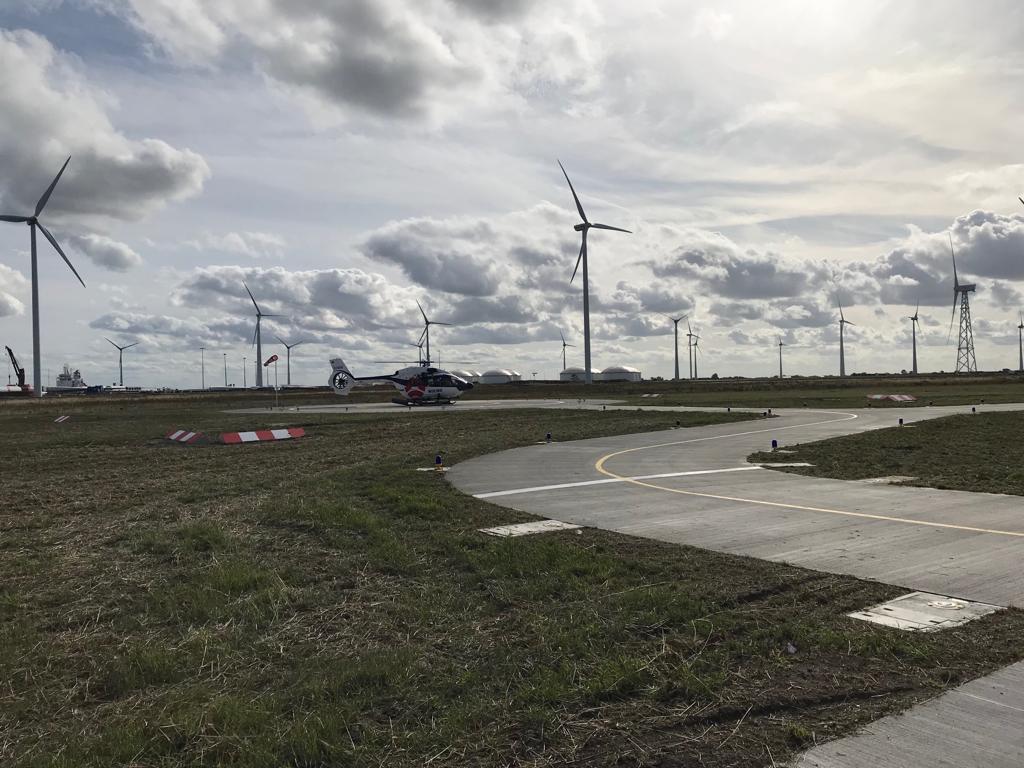 The first helicopter on Heliport Eemshaven has landed