After only six months under construction, the second Offshore Base for the Ems Maritime Offshore Ltd. (EMO) in Eemshaven has been completed. The building was officially handed over to EMO on 26 April 2018 by Deputy Director Geert-Jan Huiges from general contractor BV Bouwbedrijf Kooi Appingedam.
Merkur Offshore has agreed a long-term contract with EMO to build and operate a service hub on its behalf. In future, the building will be used by GE Renewable Germany GmbH. The office complex, which covers almost 500 m², with an adjacent 600 m² warehouse space, fulfils all the requirements of an offshore service base. The building is equipped with showers, lounges and a drying room for workwear, making it perfectly suited to specialist usage by GE Renewables.
The wind turbine manufacturer is installing 66 of its "Haliade 150" type turbines, each with a capacity of 6 MW, at the "Merkur" offshore wind farm in the German North Sea. During its search for a favourably-located site, the Merkur Offshore project management team found what it was looking for with EMO in Eemshaven. "The site offers optimum conditions for the long-term operational management and maintenance of the "Merkur" Offshore Wind Park", according to Project Manager Jens Grosse.
The EMO Ltd. Terminal, close to the AG "EMS" Borkum Line, provides direct access to the water and lots of space for different configuration options. "Eemshaven is constantly developing. Its ideal position and its growing infrastructure make it a key service and logistics location for more industries than just the offshore sector," explains EMO Managing Director Knut Gerdes.
The EMO is part of the AG "EMS" group of companies, which was the first enterprise to move into Eemshaven way back in 1972. Today, the "Borkum Line" operates services to and from Borkum from three locations and offers a terminal of approximately 10 hectares in size. In addition to a terminal building and warehouse, an area of approximately 50,000 m² of secured storage is available. A rail connection from Eemshaven to Roodeschool was completed in March of this year.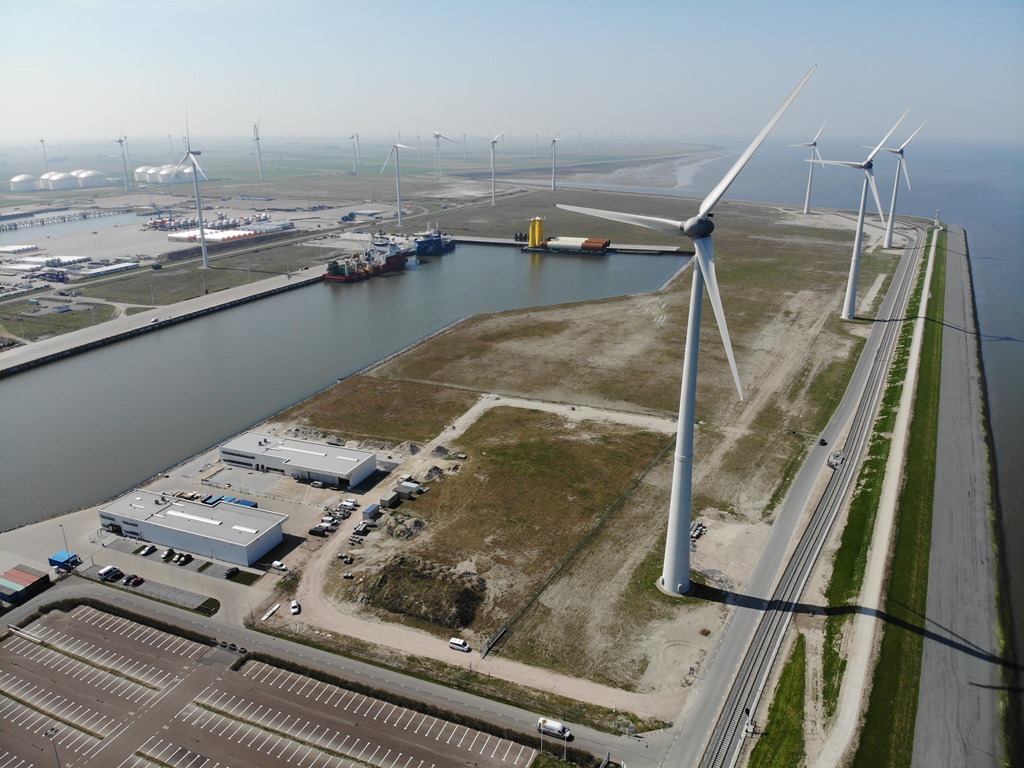 The two offshore service bases of EMO in Eemshaven. The second building on this picture was handed over to Merkur Offshore (GE Renewable Germany GmbH)