Groningen Seaports NV stimulates the development of locally generated green electricity by participating in two wind farms near the port of Delfzijl.
Groningen Seaports NV has expressed its intention to cooperate with Eurus Energy Europe BV for the further development of locally generated sustainable energy. Now it concerns participation in two wind farms, while in the future work will be done on other forms of sustainable energy, such as the production of hydrogen. With this, the port authority has entered into a long-term collaboration with Eurus Energy Europe BV. Eurus invests in sustainable energy and is the majority owner and asset manager of the Mauve and Mondriaan wind farms in Delfzijl.
Locally generated green electricity
The Mauve and Mondriaan wind farms were developed by Yard Energy and were commissioned last month. These wind farms together consist of 16 Vestas wind turbines and have an installed capacity of approximately 69 megawatts. That is equivalent to electricity for approximately 90.000 households.
Development of renewable energy
In the future, both companies will explore the possibilities to develop hydrogen projects and other sustainable energy projects in the region. Groningen Seaports CEO Cas König is proud of the collaboration with this renowned investor: "Eurus is a major player in sustainable energy worldwide. Our partnership opens doors to new markets and collaborations. We are pleased that such a large company considers the northern seaports so important."
Koji Tsuchimoto, Managing Director Eurus Energy Europe, sees this as an important step in their rapidly-growing business in Groningen: "With Groningen Seaports as our partner, we will redouble our commitment to the responsible operation of Mauve and Mondriaan wind farms, as well as further expansion of sustainable energy business in Groningen."
Eurus Energy Europe represents a portfolio of approximately 300 megawatts in 20 sustainable energy projects across the country.
About Eurus Energy Group
Eurus Energy Group develops, invests in and operates sustainable energy projects worldwide. Eurus has more than 3.2 GW of wind and solar power generation worldwide. Eurus Energy Europe B.V. is based in Amsterdam.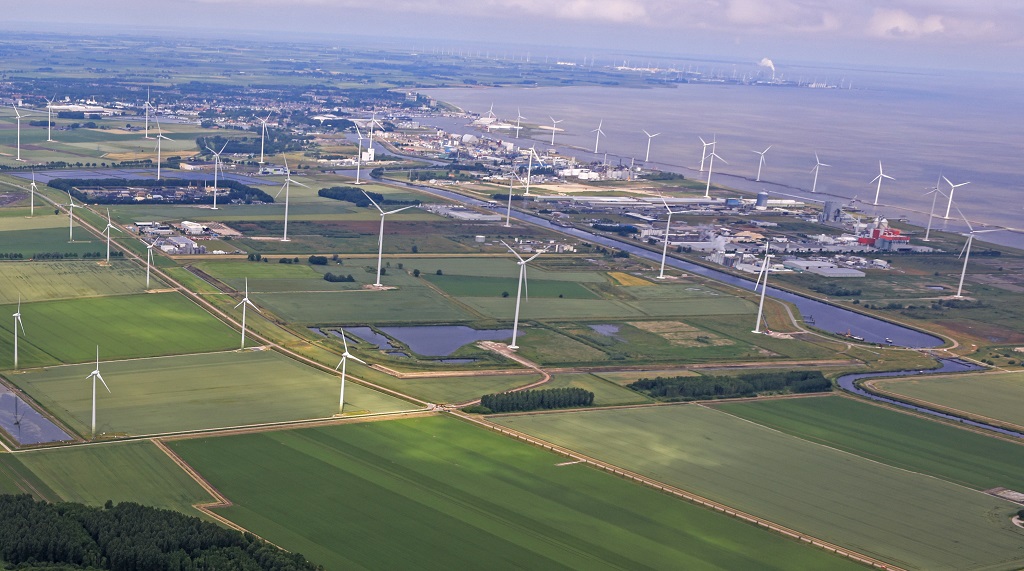 The wind farms Mauve and Mondriaan in the industrial area of Delfzijl (Photo Groningen Seaports)