Start-ups Dronequest and Cursor Asset Management have chosen to set up shop in Eemshaven. The start-ups will take their place in the Nijlicht office complex, where an 'incubator', a breeding ground for start-ups and scale-ups, has recently been established in the offshore energy sector.
Dronequest inspects industrial installations for the offshore wind industry. By using big data collected by drones, Dronequest can predict when an installation will fail, quantify risks and enable the company to better substantiate investment decisions. Start-up Cursor Asset Management has developed an algorithm that can be used to analyse this data so that damage to wind turbines can be quickly identified, for example. Simon-Robert Voogd, owner of Dronequest and Cursor Asset Management: "The Eemshaven incubator is the perfect location for us to take our business to the next level and build on our existing customer base. The network that Groningen Seaports and NNOW offers us is essential for reaching our market."
Office complex Nijlicht
Groningen Seaports rents out part of the Nijlicht office building in Eemshaven to start-ups and scale-ups interested in offshore wind related activities. That way, the port authority sets out to stimulate innovation in the offshore wind cluster in Eemshaven. Heleen van Wijk, initiator of the start-up hub from Groningen Seaports: "We're very pleased about the establishment of Dronequest and Cursor Asset Management in our incubator. The innovative techniques of these start-ups form a great addition to our innovation ecosystem and offer many opportunities for more efficient and sustainable maintenance of wind turbines, and are therefore an important link in a market that wants to operate more and more sustainably and efficiently."
Alliance
For this initiative, Groningen Seaports is working closely with Northern Netherlands Offshore Wind (NNOW), Economic Board Groningen (EBG), the Investment and Development Company for the Northern Netherlands (NOM) and Flinc, specialised in the growth of start-ups. The initiative is part of the 'MOI Communities'. Dirk Jan Hummel, project leader from NNOW: "Parties such as Dronequest and Cursor Asset Management are exactly what we are aiming for. By connecting start-ups such as these to our network, we're jointly raising the offshore wind business in the north of the Netherlands to a higher level. Innovation is something you do together!"
Many advantages
Interested start-ups can count on inexpensive but good quality accommodation in Eemshaven. Participation also offers many advantages in terms of access to the right people in wind-related activities in the Eemshaven and other wind-related networks. After all, Eemshaven has developed enormously in recent years into an offshore wind port. The start-ups that establish themselves in Nijlicht are also given a place in what are known as accelerator programmes.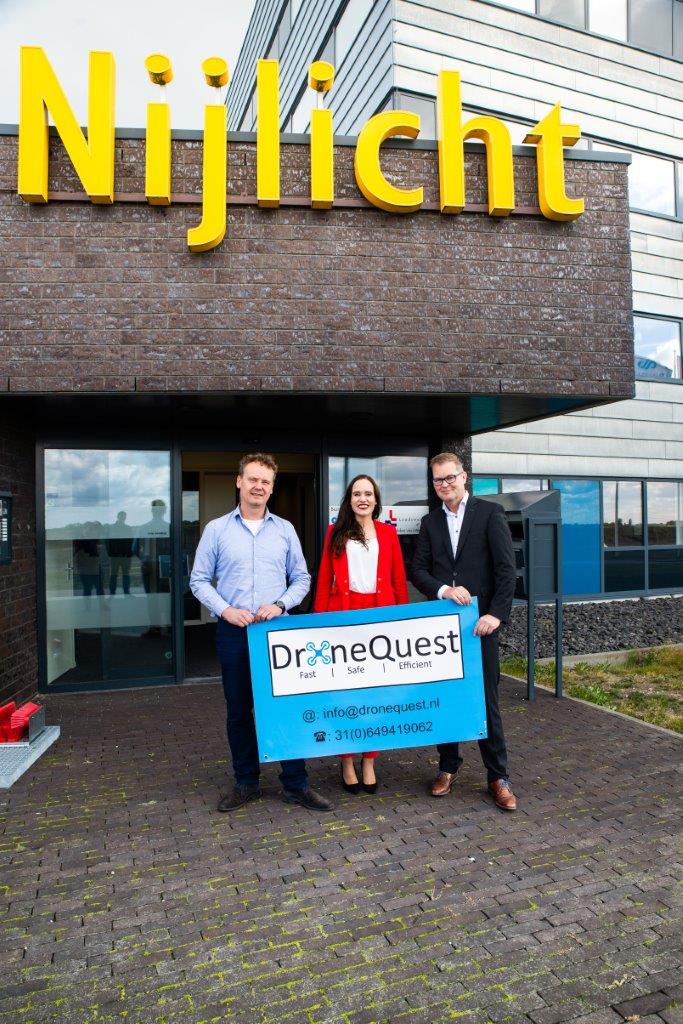 Simon-Robert Voogd (Dronequest), Heleen van Wijk (Groningen Seaports) and Dirk Jan Hummel (NNOW) in front of office complex Nijlicht in Eemshaven